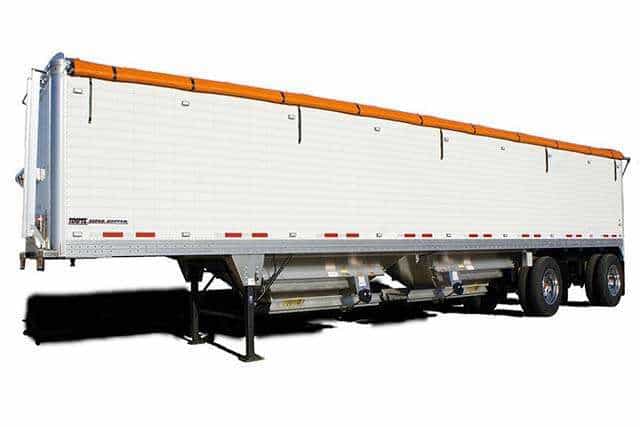 Available in lengths of 48' and 50'. Axle spacing's available from 10'2" to 10'8". Air ride suspensions are standard on all Spread Axle trailers.  See below for more Trailer Specifications.
View our CURRENT INVENTORY of new and used trailers.
For more information, give us a call +1 (573) 545-3065 or +1 (866) 280-6110.  You can also Contact Us or Request a Quote through our online forms.  For financing needs, please download and complete our Credit Application Form.
STANDARD SPECIFICATIONS
| | |
| --- | --- |
| APPLICATION | Recommended for transportation of agricultural and industrial bulk commodities. |
| KINGPIN SETTING | 20"- Single I-beam with 3/8" steel flanges, 1/4" steel full-width pickup plate. |
| SIDE PANELS | Pre-painted white .048" and .063" aluminum, corrugated on 4" centers.  |
|   | Lower Rails-Aluminum 7-11/16" high extrusion.  |
|   | Side Posts- Aluminum extrusion 1-3/4" z-posts on 12" centers.  |
|   | Side Top Rails-Aluminum 5-5/8" x 6-1/4" extrusion.  |
|   | Interior Lining-.048" aluminum. |
| REAR PANELS | Corrugated pre-painted white .048" aluminum panels and extruded aluminum posts. |
| ACCESS SYSTEM | Aluminum ladders, handholds, and platforms are mounted on both the front and the rear, with a flip down step mounted to the base of the rear ladder. |
| NOSE PANELS | Smooth pre-painted white .063" aluminum. |
| FRONT CORNERS | 6" radius, mill finish aluminum (color & SS inserts optional). |
| LIGHTS & WIRING | Side Lamps - Includes 2 rows of 3 lamps each side;(3) amber L.E.D., (2) red L.E.D, (1) amber L.E.D. mid turn/marker lamp.  |
|   | Nose Lamps - (2) High mounted amber L.E.D. lamps.  |
|   | Standard High mounted Rear Frame Lamps - (5) red L.E.D. marker lamps on rear header.  |
|   | Rear Tail Lamps- (6)-4" diameter, 7 diode L.E.D. lamps, flange mounted.  |
|   | Electrical-All weather-pack automotive style connections, sealed to prevent corrosion.  |
|   | Common ground.  |
|   | Conspicuity Tape: Red and white reflective tape mounted in line with bottom row of side marker lamps and full width across rear of trailer.  |
|   | White reflective tape mounted on top corners of rear frame. (All lamps and wiring comply with FMVSS 108) |
| SUPPORT LEGS | Square legs, with roadside removable crank, low-profile 10" square cushion foot shoe, 50,000 lbs. lift capacity – "No Lube" package. Located 98" from Kingpin on 48' trailers and 110" on 50' trailers. |
| HOPPERS | Side panels of .080" aluminum with side slope angle of 43.5 degrees.  |
|   | Center and end panels of .100 aluminum with slope angle of 33 degrees.  |
|   | Riveted split tub design.  |
|   | Front and Rear End slope panels-.080" aluminum supported by aluminum channel with Z shaped crossmembers, 33 degree slope angle.  |
|   | Divider Panel - .080 aluminum supported by bulkhead crossmembers. |
| TRAPS | 26"W x 54"L openings surrounded by robust structural trap frame.  |
|   | The trap plates are 1/4"aluminum with steel stiffeners supported by double sealed steel ball bearings with a plastic internal seal.  |
|   | 102" wide trailers Add 6" to trap opening width.  |
|   | Hopper clearance 19" |
| TRAP OPERATORS | Each trap is opened and closed by a manually operated 1" diameter shaft connected through a U-joint to the double rack and pinion gears using a removable crank.  |
|   | There are trap locks at each crankshaft.  |
|   | The double rack and pinion gears drive at both sides of each trap plate. |
| SUSPENSION | 23,000 lbs rated air ride suspension, 17" ride height, 71-1/2" or 77-1/2" track, with 28-spline camshafts.  |
|   | Suspension subframe long beams are 4" x 8" x ¼" rectangular structural steel tubing and the crosstubes are 4" x 8" and 6" x 8" structural steel tubing.. 10'2" axle spacing on the 48' and 10'8" on 50'. |
| HUB & DRUM | Cast ductile iron hubs with cast high-alloy, gray iron outboard mounted drums, hub piloted. |
| BRAKES | 16-1/2" X 7" "Q+" quick change brakes with 5.5" auto slacks and 30/30 spring brake chambers complying with FMVSS 121.  |
|   | 4 sensor, 2 modulator anti-lock brake system with constant power supplied by center auxiliary pin.  |
|   | Exceeds the minimum requirements of FMVSS 121,S5.5 |
| WHEELS | Eight (8) 24.5 x 8.25 white steel disc painted, hub piloted. |
| TIRES | Eight (8) 11R24.5 radials. |
| MUDFLAPS | ½" Black heavy-duty rubber 24"W x 30"L. |
| TARP | 18 oz. blacke roll tarp with rear mounted crank.  |
|   | Three molded black plastic sidewall protectors. |
| TARP BOWS | Eight (8) - 9" rise galvanized steel arch type on 46'6" trailers, nine (9) on 48' & 50' trailers. |
| COATINGS | Black protective metal coating on all steel parts. |